Huawei eNSP Labs
Here, You Can Find Huawei eNSP Configurations of Various Network Protocols on Different Network Topologies.
These Configurations are Also used on Huawei Configuration Course on IPCisco and Huawei HCIA R&S All Labs Course on Udemy.
eNSP Labs are available only for Silver and Gold Members! To become a member, Click!
You Can Purchase These Excellent eNSP Labs Separately From IPCisco Shop.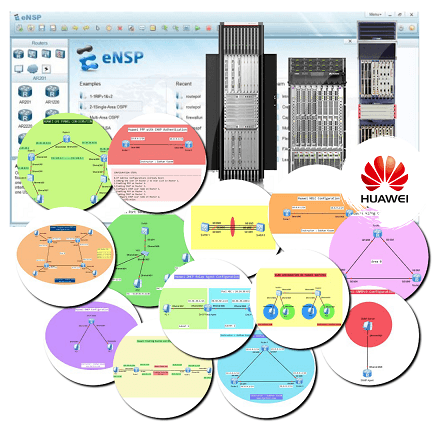 Huawei eNSP Configurations
Huawei eNSP is the Network Simulator of Huawei. With Huawei eNSP, you can practice with Huawei Routers and Switches, you can gain hands on experience on Huawei devices. In Huawei Labs Page, you will find many Huawei Configurations with Huawei eNSP. The configurations on this page are also use for Huawei Configuration Course. So, you can watch also the video course of Huawei Configurations on eNSP.
Here, various network topologies will give you different view and with this view, you will learn a lot of key configuration parameters. You will experience Huawei Router and Switch Commands. Both for Huawei Certification period and for your real life network operations, these Huawei eNSP Configurations will help you a lot. With these Huawei configuration experience, you will easily pass your Huawei Certifications Exams and you will configure your company devices easily with Huawei HCNA Configuration Labs page.
---
Huawei HCNA Labs
With Huawei HCNA Configuration Labs page, you will learn all the required configuration practice on Huawei HCNA (HCIA) Routing and Switching. You can download the Lab files and then you can practice on these Huawei Labs for each network protocol and network concept. Huawei eNSP examples with various network topologies on this page will also give you a different view, and this view and practice, you will be ready for your Huawei HCNA Exams.
The Huawei Labs page also help you on your other Huawei R&S Certifications, HCIP and HCIE. Because, here, you will find all the key protocols and concepts that are also the lessons of other certification steps in Huawei Routing and Switching Certification Path.
---
How to Gain Huawei Hands on Experience?
You can use both real Huawei Routers and Switches to gain Huawei Hands On experience. Beside, you can use Huawei simulator, Huawei eNSP to gain this hands on experience. So, with the eNSP Configuration Examples on this page, you will have this experience. After downloading the configuration files, you can pracitice on your own for more experience on Huawei Routers and Switches. You can also follow Huawei Configuration Course Videos during your Huawei practice with Huawei Labs Page, with HCNA Configuration (HCIA) Labs.
---
Huawei HCNA Lab Lessons
In this Huawei Configuration Page, you can access all  the files of HCIA H112-221 Exam Configuration lessons. We will cover te below HCIA Configuration Lesson with these labs:
DHCP Configuration
DHCP Relay Configuration
Port Security Configuration
AAA Configuration
Link Aggregation Configuration
VLAN Configuration
STP Configuration
RSTP Configuration
Static Routing Configuration
Floating Routes Configuration
Interface Configuration
OSPFv2 Configuration
OSPFv3 Configuration
RIPv2 Configuration
RIPng Configuration
GRE Configuration
HDLC Configuration
PPP PAP Configuration
PPP CHAP Configuration
SNMPv3 Configuration