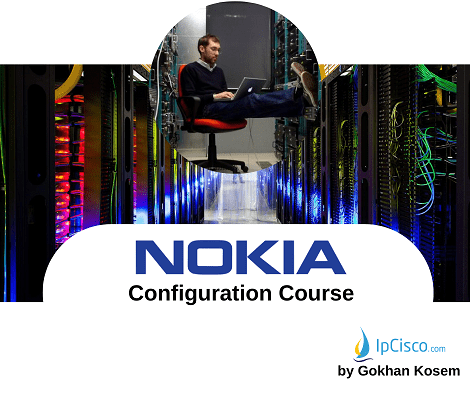 ---
Nokia Configuration Course
In this Nokia Configuration Course, we will focus on the configuration of network protocols and various network topologies in Nokia Routers with GNS3. Here, we will mainly focus on Nokia NRS I and NRS II lessons. Nokia Configuration Course will teach you different Nokia CLI commands and provide you Hands on Experience. So, to gain this experience you can do this configurations together with the course by yourself.
---
Nokia Configuration Lessons
In this Nokia Configuration Course, we will focus to the below lessons. We will learn how to configure network protocols and concepts with different network topologies.
Here are the the Nokia Configuration Lessons:
Nokia Interface Configuration
Nokia Card and MDA Provisioning
Basic 7750 SR Configuration
Nokia 7750 Service Router Logs
Nokia IP Filter Configuration
Nokia RADIUS Configuration
Nokia TACACS Configuration
Nokia NRS I is the beginning Certification of Nokia Service Router Architecture Certification (SRA). With this Nokia Configuration Course, we will learn Labs of Nokia NRS I. You can also use these labs for NRS II and SRA level Certifications. This configuration course will be updated always with new labs.
---
---
Nokia Hands On Experience
To practice on Nokia Service Routers, you can follow Nokia Configuration Course and learn How to Configure Nokia 7750 Service Router  with various Nokia Commands. With this course, you will have Hands on Experience on Nokia and you will be ready for the Practical part of Nokia NRS I. Beside, you will be ready for your daily network operations, Nokia Configurations at your company. This course will be a great start for Nokia CLI and Nokia Configs.
Nokia SRA Certification
The top level certification of Nokia is SRA (Service Router Architect). In this course, you can find Nokia Configurations also for Nokia SRA. You can find the detailed information about Nokia SRA Certification on IPCisco. You can also check Nokia SRA Page to learn more about Nokia SRA. You can also find SRA, NRS II Trainings like Nokia IRP, Nokia MPLS and Nokia Services Architecture courses. With these courses, you will be ready for Nokia Certifiations.
There are also Online Nokia Trainings like Online Nokia NRS I Training on IPCisco! You can find these trainings on IPCisco.
Nokia Basic Router Configurations
Nokia Security Configurations