The evolution had started with additional of the packet switched network to the GSM network architecture. And this new technology called GPRS(General Packet Radio Service). It is also called 2,5G. GPRS is important as a migration step toward third-generation (3G) networks and allows network operators to implement an IP-based core architecture for data applications, which will continue to be used and expanded for 3G services for integrated voice and data applications.
The GSM and GPRS network architecture shown below.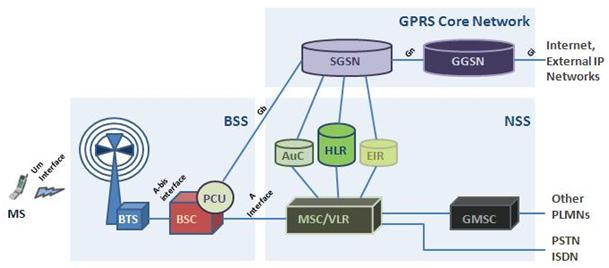 GPRS require some modifications to some GSM network elements.
These are :
New MS for GPRS with backward compatible with GSM.
Software upgrade in BTSes.
Software upgrade in BSCes and a new hardware called Packet Control Unit (PCU) is added. The PCU directs the data traffic to the GPRS network.
Installation of new core network elements called the Serving GPRS Support Node (SGSN) and Gateway GPRS Support Node (GGSN).
Software upgrades in databases like HLR,VLR etc…
SGSN
Analogous to the MSC in circuit switched network. The SGSN is responsible for authentication of GPRS mobiles, registration of mobiles in the network, mobility management, and collecting information for charging for the use of the air interface.
GGSN
Analogous to the GMSC in circuit switched network. The GGSN acts as an interface and a router to external networks. It contains routing information for GPRS mobiles, which is used to tunnel packets through the IP based internal backbone to the correct SGSN. The GGSN also collects charging information connected to the use of the external data networks and can act as a packet filter for incoming traffic.
SGSN and GGSN are routers with additional functionality capable of switching IP packets using non-IETF protocols.
GGSN is the primary vehicle that you can use to support Mobile IP. As you know there is a "foreign agent" in Mobile IP.This function can be installed to GGSN in GPRS network.
Evolution from 2G to LTE (Part 1 – GSM)
Evolution from 2G to LTE (Part 2 – GPRS)
Evolution from 2G to LTE (Part 3 – EDGE)