As you know after LTE, LTE-A (LTE Advanced) is the next step of mobile technology. In this article, I will try to explain this LTE-A (LTE Advanced) features basically.Let's start ;)
CA (Carrier Aggregation)
Carrier Aggregation is the most important feature of 3GGP Release 10 LTE Advanced. With this feature, eNodeB schedules capacity from multiple cells to the User Equipment. By this way, hig data rates are reached.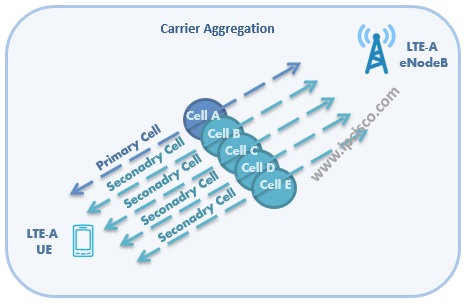 LTE-A Carrier Aggregation
Enhanced MIMO
In LTE for capacity expansion, MIMO(Multiple Input Multiple Output) feature is used. This is done via spatial multiplexing and multi-antenna techniques. In LTE-A, this feature enhanced.
In LTE, Single User and Multi User MIMO is supported for downlink (eNode B to UE). Only Multi User MIMO is supported for Uplink. And the capacity is up to 4x MIMO for downlink and 2x MIMO for uplink.
In LTE-A, for both downlink and uplink Single User and Multi User are supported. And the MIMO capacities are increased 8x MIMO in the downlink and 4x MIMO in the uplink.
LTE-A MIMO.jpg
LTE Relay Nodes
With LTE Relay nodes, the signals from the eNodeB is repeated and this provides the coverage of the uncovered parts because of large buildings, hills etc…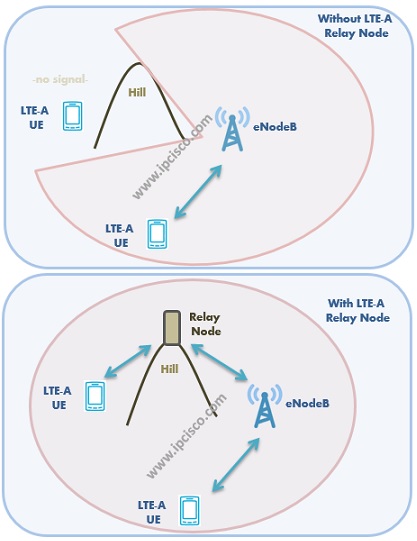 LTE-A Relay Node
Relay Node deployment is done in two ways. Type 1 and Type 2. Type 1 is the non-transparent mode. In this mode the relay node transmits both signalling and user traffic. Type 2 is the transparent mode. In this type only user traffic is transmitted by relay node. EnodeB is responsible for signalling.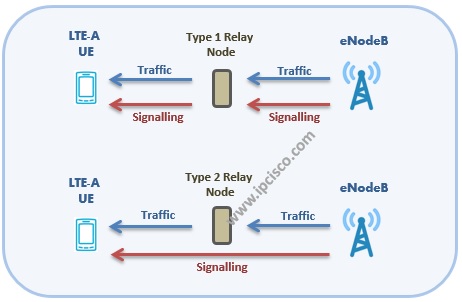 LTE-A Relay Node Types