Cisco SD-WAN Components
In Cisco SD-WAN Architecture, there are main components work on different SD-WAN Architecture Planes. These SD WAN Components and their location in the SD-WAN Architecture ig given below:
---
---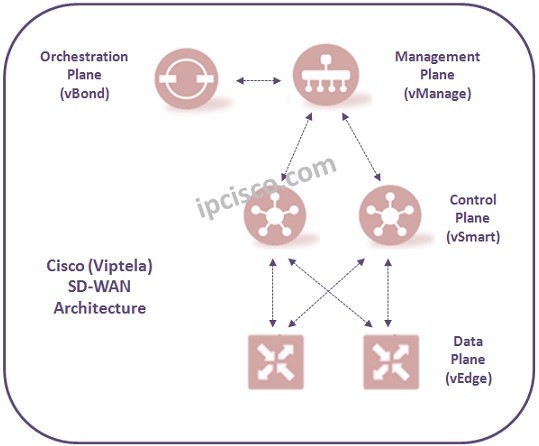 At 2017, Cisco acquired Viptela. At that time, Viptale was the most successfull startup on SD WAN Technologies. Since that time,the Components of Viptela SD-WAN is being used as  Cisco SD-WAN Components.
Now, let's talk about Viptela and Cisco's SD-WAN Architecture Components.
---
vBond
vBond is the Ochestration Plane device of Cisco SD-WAN Architecture. In another words, it is the orchestrator of vSmart and vEdge devices in the control plane. For the new devices, vBond provide authentication and it also connects the new devices to the vSmart Controller. The discovering vManage is also another duty of vBond.
vBond and vSmart Controller connection is permanent after their connection. When a vEdge device comes online, a temporarily connection is also established between vBond and vEdge device. After the orchestration is done and permanent connectivity between vEdge and vSmart is established, this connection is broken. Before the vEdge router connection break, vBond performs vEdge load balancing across multiple vSmart controllers.

vBond uses DTLS (Datagram Transport Layer Security) tunnels for authentication of vSmart Controller and vEdge routers. There can be multiple vBondin the Cisco SD-WAN Architecture. For this type of design, a separate DTLS (Datagram Transport Layer Security) tunnel is needed toward each vSmart Controller.
vBond uses Public IP address in Cisco SD-WAN. It is the only SD-WAN device that uses Public IP. With this IP,  it can connect other Cisco SD-WAN Architecture devices.
---
vManage
vManage is the central Network Management System (NMS) of Viptela (Cisco). In SD-Wan Architecture, vManage resides in the Management Plane.

With vManage GUI, you can configure, manage and troubleshoot  your all SD-WAN network devices. You can store all the required resources for your SD-WAN devices such as licences, policies, configurations etc. in vManage. And whenever SD WAN devices need this resources, vManage sends this resources to these devices.
Viptela's (Cisco's) vManage and vSmart Softwares can be both on separate servers and on a single server. This is up to your SD-WAN design.