Local Service Mirroring Configuration
In this article, we will focus on Nokia (Alcatel-Lucent) Service Mirroring Configuration. As we have talked about before, there are two Service Mirroring Type. Local Service Mirroring and Remote Service Mirroring. Here, we will configure Local Service Mirroring.
Local Service Mirroring is done in one device. For our example, we will use the below topology: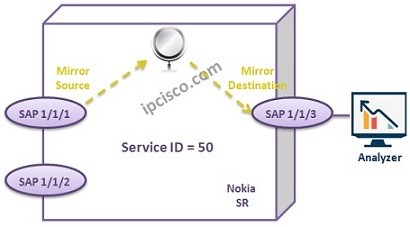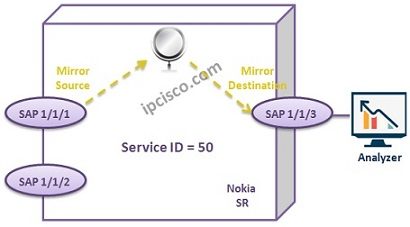 Here, we will check the traffic between SAP 1/1/1 and SAP 1/1/2. We will analyze this traffic form the SAP 1/1/3. So, uur Mirroring Source will be SAP 1/1/1 and the Mirroring Destination will be SAP 1/1/3.
Let's start to configure Local Service Mirroring on Nokia 7750 Service Router (Alcatel-Lucent 7750 SR).
Firstly, we will create the Mirror Destination with "mirror-dest service-id create" command.We will do this under the mirror context. Our Service ID is 50. This Service ID must be the same for the Mirroring Source also.

Nokia-router>config> mirror
Nokia-router>config>mirror# mirror-dest 50 create

After mirror destination, we will add SAP for the destination. We will do our analyze from this SAP.
Other Mirroring Articles
Nokia Service Mirroring – Overview
Nokia Service Mirroring – Local Service Mirroring
Nokia Service Mirroring – Remote Service Mirroring