EIGRP for IPv6 (Enhanced Interior Gateway Routing Protocol for IPv6)
We can define "EIGRP for IPv6" as the enhancements that is done in EIGRP for IPv6 support. Basically, EIGRP protocol is the same protocol but it has some additional properties at this time.
Differences of EIGRP and EIGRP for IPv6
EIGRP and EIGRP for IPv6 are configured separately. Because they have some different parts even if they are the same protocol 's different versions.
What are these differences. Let's chek one by one.
EIGRP for IPv6 Runs on Links Instead Networks
In EIGRP, networks are added to the EIGRP process. But with IPv6 and EIGRP for IPv6, interfaces are added to the EIGRP protcess. In other words there is no "network" command in EIGRP for IPv6. Instead a per-interface based association is done.
Being under the same subnet is not important in EIGRP for IPv6 neighbourship. Even if they are in different subnets, a neighbourship can be established between these nodes.
For EIGRP neighbourship, link-local addresses are used. In all the tables of EIGRP, you see the link-local IPv6 address.
EIGRP Commands Evolve EIGRP for IPv6 Commands
The configuration commands are also changing with the new enhanced version of EIGRP. Here, IPv6 commands are coming for both EIGRP for IPv6 configuration and verification.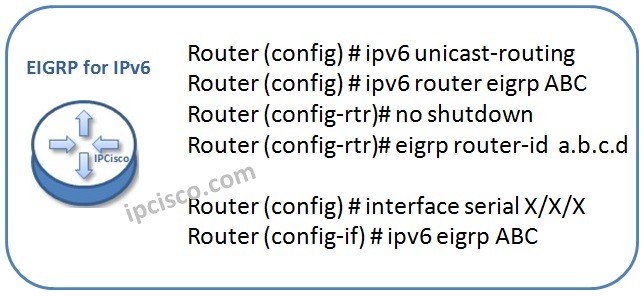 Multicass Address of EIGRP for IPv6
EIGRP uses multicast address of 224.0.0.10. EIGRP for IPv6 use IPv6 version of this address, FF02:0:0:0:0:0:0:A (FF02::A) .
Other Differences for EIGRP for IPv6
In EIGRP, as you know there an auto summarization mechanism. With EIGRP for IPv6, this mechanism is not supported.
EIGRP for IPv6 does not support the "default-information" command. Because in IPv6 there is no default network accepted except ::/0.
There are new TLVs . New TLVs, can be used for both IPv4 and IPv6. These are :
– INTERNAL_TYPE (0X0602)
– EXTERNAL_TYPE (0X0603)
Router ID of EIGRP is in IPv4 address format in the previous version. It is still same for the IPv6 version of EIGRP.
Lastly, in EIGRP for IPv6 enhancement, there is no Split Horizon.
IPv6 Routing Protocols…
IPv6 Routing Protocols – Part 1
IPv6 Routing Protocols – Part 2 (OSPFv3)
IPv6 Routing Protocols – Part 3 (EIGRP for IPv6)
IPv6 Routing Protocols – Part 4 (RIPng)
IPv6 Routing Protocols – Part 5 (ISIS for IPv6)
IPv6 Routing Protocols CONFIGURATIONs..!

Static/Default Route Configuration Example On Cisco IOS
OSPFv3 Configuration Example On Cisco IOS
EIGRP for IPv6 Configuration Example On Cisco IOS
RIPng Configuration Example On Cisco IOS
ISIS for IPv6 Configuration Example On Cisco IOS
You can find the other IPv6 articles below…

IPv6

IPv6 – Part 1 (IPv6 and IPv6 Addresses)
IPv6 – Part 2 (What does IPv6 bring?)
IPv6 – Part 3 (Address Types in IPv6)
IPv6 – Part 4 (Subnetting IPv6)
IPv6 Static Route Configuration Examples…

IPv6 Static Route Configuration on Cisco
IPv6 Static Route Configuration on Juniper
IPv4 and IPv6 Headers…

IPv4 and IPv6 Headers