STP Portfast Configuration with Packet Tracer
In STP (Spanning Tree Protocol) there are Blocking State, Listenning State, Learning State and Forwarding State. With STP Portfast, Listenning State and Learning State bypassed.
The access ports of the switches that connect to hosts can configured with STP Portfast. And with STP Portfast, the host ports rapidly goes to Forwarding State. Here, host means, PCs, Laptops, IP Phone and other user equipments.
You can DOWNLOAD the Cisco Packet Tracer example with .pkt format At the End of This Lesson.
For our STP Portfast configuration, we will use the below topology on Packet Tracer.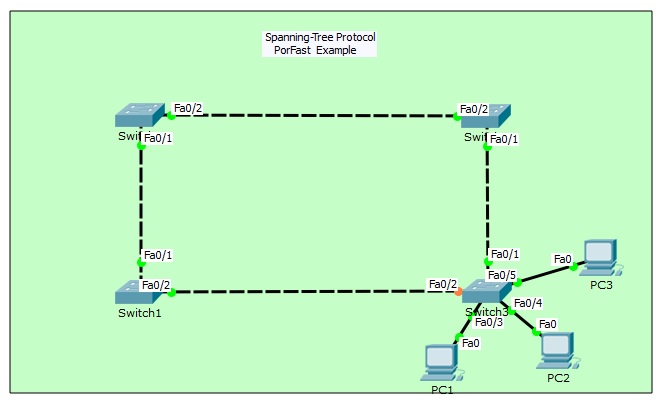 STP Portfast Topology
Before STP Portfast configuration, let's check the STP behaviour withot STP Portfast.
You can delete the link of PC2 and then reconnect it for checikng the behaviour of STP without STP Portfast. After this process, you will see STP states one by one.
Switch# show spanning-tree 
VLAN0001
  Spanning tree enabled protocol ieee
  Root ID    Priority    32769
             Address     0006.2A11.24CC
             Cost        38
             Port        1(FastEthernet0/1)
             Hello Time  2 sec  Max Age 20 sec  Forward Delay 15 sec

  Bridge ID  Priority    32769  (priority 32768 sys-id-ext 1)
             Address     000A.4139.1675
             Hello Time  2 sec  Max Age 20 sec  Forward Delay 15 sec
             Aging Time  20

Interface        Role Sts Cost      Prio.Nbr Type
---------------- ---- --- --------- -------- --------------------------------
Fa0/1            Root FWD 19        128.1    P2p
Fa0/2            Altn BLK 19        128.2    P2p
Fa0/3            Desg FWD 19        128.3    P2p
Fa0/4            Desg LSN 19        128.4    P2p
Fa0/5            Desg FWD 19        128.5    P2p

Switch# show spanning-tree
VLAN0001
  Spanning tree enabled protocol ieee
  Root ID    Priority    32769
             Address     0006.2A11.24CC
             Cost        38
             Port        1(FastEthernet0/1)
             Hello Time  2 sec  Max Age 20 sec  Forward Delay 15 sec

  Bridge ID  Priority    32769  (priority 32768 sys-id-ext 1)
             Address     000A.4139.1675
             Hello Time  2 sec  Max Age 20 sec  Forward Delay 15 sec
             Aging Time  20

Interface        Role Sts Cost      Prio.Nbr Type
---------------- ---- --- --------- -------- --------------------------------
Fa0/1            Root FWD 19        128.1    P2p
Fa0/2            Altn BLK 19        128.2    P2p
Fa0/3            Desg FWD 19        128.3    P2p
Fa0/4            Desg LRN 19        128.4    P2p
Fa0/5            Desg FWD 19        128.5    P2p

Switch# show spanning-tree
VLAN0001
  Spanning tree enabled protocol ieee
  Root ID    Priority    32769
             Address     0006.2A11.24CC
             Cost        38
             Port        1(FastEthernet0/1)
             Hello Time  2 sec  Max Age 20 sec  Forward Delay 15 sec

  Bridge ID  Priority    32769  (priority 32768 sys-id-ext 1)
             Address     000A.4139.1675
             Hello Time  2 sec  Max Age 20 sec  Forward Delay 15 sec
             Aging Time  20

Interface        Role Sts Cost      Prio.Nbr Type
---------------- ---- --- --------- -------- --------------------------------
Fa0/1            Root FWD 19        128.1    P2p
Fa0/2            Altn BLK 19        128.2    P2p
Fa0/3            Desg FWD 19        128.3    P2p
Fa0/4            Desg FWD 19        128.4    P2p
Fa0/5            Desg FWD 19        128.5    P2p

You can check the other Cisco Packet Tracer Examples below:
Common Cisco Router Configuration Example on Packet Tracer
Router DHCP Configuration Example on Packet Tracer
VTP Configuration Example on Packet Tracer
VLAN Configuration Example on Packet Tracer
STP Configuration Example on Packet Tracer
RSTP Configuration with Packet Tracer
STP Portfast Configuration with Packet Tracer
Inter VLAN Routing Configuration on Packet Tracer
Switch Virtual Interface (SVI) Configuration with Packet Tracer
BGP Configuration Example on Packet Tracer
Port Security Configuration Example on Packet Tracer
RIP Configuration Example on Packet Tracer
CDP Configuration Example on Packet Tracer
OSPF Area Types Example on Packet Tracer (Standard and Backbone Areas)
OSPF External Routes Example on Packet Tracer
OSPF Area Types Example on Packet Tracer (Stub, NSSA, Totally Stubby, Totally NSSA Areas)
Standard Access-List Example on Packet Tracer
Extended Access-List Example on Packet Tracer