Networking Certifications has served as a stepping stone for those seeking to advance their careers in Networking, h they are beginners or seasoned professionals. The great thing about Network Certifications is that they show you what you don't know, they give you a guided way to learn Technology and pours light on some areas you didn't know existed and Networking Certifications broadens your knowledge and forces you to learn in depth what Technology is all about. Here, we will focus on Top 10 Network Certifications.
Networking Certifications gives you a certain Level of Confidence especially when it comes to the job market. Most recruiters or Hiring Managers go for candidates with these Certifications as a prove of your how and capabilities.  In the Technical area of IT, it is essential to be prepared with hands on skills or applicable skills based on a range of the complexity of some IT concepts. Network Certifications is one of the main ways the IT industry standardizes the competency expected in specific areas.
In this article we will review the some of the most in-demand Network Certifications that are available at the moment and detailed benefits of each Certification.
---
Top Network Certifications for Network Engineers
Network certifications are very important for a network engineer. So, what are the most popular network certifications. Here are Top 10 Network Certifications which are very popular between network engineers, network administrators, network technicians and other IT guys.
Amazon Certified Solutions Architect (CSA)
CompTIA A+
ComPTIA Network+
Juniper Network Certified Internet Expert (JNCIE)
Aruba Certified Mobility Associate
Now, let's focus on each of these Top 10 Network Certifications one by one.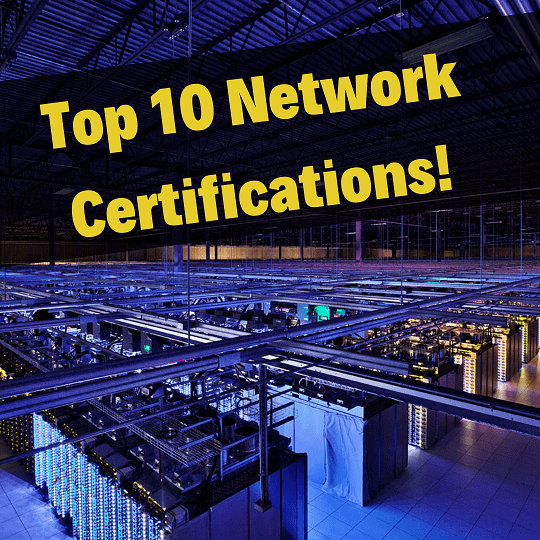 ---
Cisco CCIE
Cisco Certified Internetwork Expert, CCIE, is a the first of Top 10 Network Certifications. It is the step above the CCNP Networking Certification. The CCIE focus on one of several tracks with specific tests like the CCIE Routing – Switching exam or CCIE wireless.TO be able to take this test CCIE students have to complete an eight-hour practical lab project where they apply networking concepts to tangible objectives.
---
Cisco CCNP
Cisco company has six levels of Network Certifications; entry, associate, specialist, professional, expert and architect. The CCNP certification is a professional-level industry qualification that refer to several networking areas including data centers, IT collaborations, security and DevOps. Acquiring a CCNP certification indicates that you have an understanding of core functions in each area of network operations.
---
Amazon Certified Solutions Architect
AWS Certified Solutions Architect is a category of technical certifications offered by AWS for beginners and professionals who run enterprise architecture programs, as well as solutions architects. This Networking Certification covers deployment of AWS systems, AWS best practices and other topics.
---
CCNA Certification (Cisco Certified Network Associate) is one of Cisco's most sought-after entry level Networking certifications. CCNA exam tests the knowledge and skills that a network professional would need to possess to install, configure , and troubleshoot medium-sized networks.
---
ComPTIA A+
ComPTIA A+ is a performance-based Networking Certification that supports the ability to connect users to the data they need to do their jobs regardless of devices being used. ComPTIA A+ certification lays the groundwork fo all IT careers. Obtaining this certification indicates a thorough understanding of the basics of working with hardware, networks, and computer systems.
---
ComPTIA Network+
ComPTIA Network+ Certification validates the knowledge and skills needed to troubleshoot, configure, and manage both wired and wireless networks found in companies around the world. ComPTIA Network+ certifies a professional-level understanding of emerging technologies including cloud and Virtual Technologies.
---
Juniper Network Certified Internet Expert (JNCIE)
JNCIE Network Certification is the last of Juniper certifications. Acquiring this certificate indicates that you are an expert in Routing and Switching, you have advanced Hands on Experience on Juniper Routers and Juniper Switches.
---
Nokia Service Routing Architect (SRA)
The Nokia SRA Certification is the highest level of certification in the Service Routing Certification (SRC) program. This network certificaiton starts with Nokia NRS I Certification, continues with Nokia NRS II and lastly Nokia SRA. The SRA Certification is designed for engineers who have the ambition to become an expert in all aspect of designing, building, and supporting Service Router networks and services. In order to complete this exam, the candidate is required to pass a one-day practical lab exam.
---
Huawei Certified Network Associate (HCNA)
HCNA Certification is the first certification of Huawei Routing and Switching certification path. This Networking Certification is indeed similar to the Cisco CCNA Certification. This Certification validates the knowledge and skills required for basic configurations and maintenance of small to medium-sized networks, Hands On experience on Huawei Switches and Routers.
---
Aruba Certified Mobility Associate
Aruba Network Certification validates you have the foundational networking knowledge and skills required to design, setup and configure a basic Aruba Wireless Local Area Network (WLAN). A Aruba certified Mobility Associate is a professional who understands Everything regarding Aruba Networks, how they are implemented, monitored, configured and how they are maintained.
---
Benefits of Network Certifications
We have talked about Top 10 Network Certifications one by one. Acquiring Network Certifications is an investment in different areas of your career growth. The resources and effort you put into learning new skills and studying for Networking Certifications has a significant impact on your ability to find your desired job in your field of study. Some of the key benefits of seeking Network Certifications include:
Growing technical knowledge
Competing against othre applicants
Expanding your career opportunities
Increasing Earning and so much more.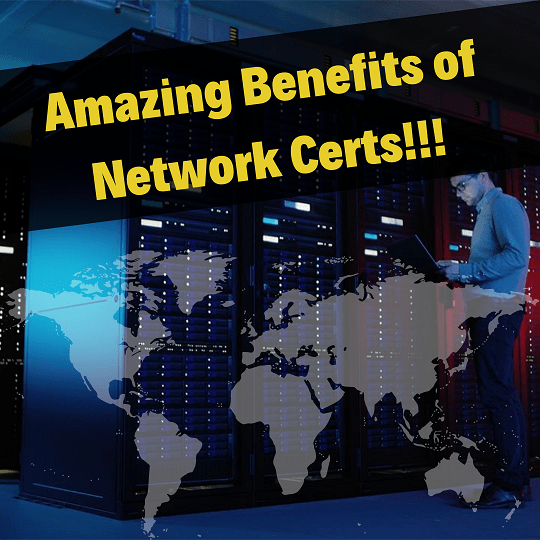 The Network Certifications listed covers various areas and are popular and in high demand. Even if you do not see the importance of these certifications, many employers and hiring Managers rely on them when it comes to making hiring decisions. A candidate with popular Networking Certifications stand the chance of being hired that a candidate with less or no certification.
Pursuing a networking certification, especially one of the Top 10 Network Certifications, especially certificates that are well regarded or well-known is definitely not a waste of time but rather it is a long-life investment for your career.
Mourine Shuyeh