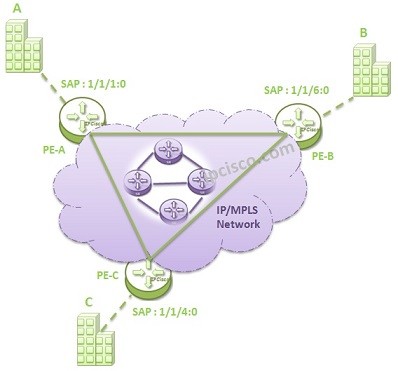 VPLS is a Leyer 2 VPN technology. Because of its Layer 2 nature, "MAC Learning" is very important for VPLS. So, how does VPLS learn MAC Addresses?
MAC Learning in VPLS is similar to normal switching MAC Learning. The concept is basic. At the beginning nobody knows the others. So, to send a packet the router that run the VPLS service floods the packet through all the LSPs. After this flood operation, other ends learn the senders MAC and record its FDB Table. When they send to this specific far end, they use this MAC address. And when they send a new packet to the first sender, first sender also record their MAC address. And this process continue till all the nodes learn eachother.
a
Basically, MAC Learning is done from the Source of the packets always. The Source MAC Address and its Port is recorded and when there is a packet to this source, the packet send without flooding to the exact destination. Because, this destination is recorded before.
Let's talk this on an example. There is a VPLS topology below. We will quickly cover how VPLS MAC Learning is done on this VPLS topology.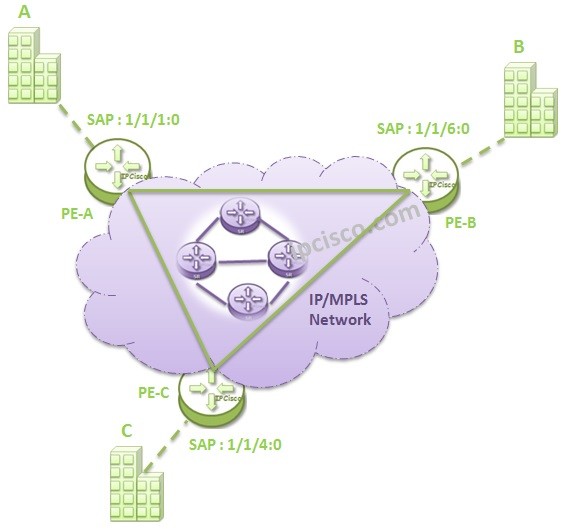 Note : Here, the bracnhes are connected SAPs. This is an Alcatel-Lucent term used for custoemer faced interfaces. This is a normal interface in Cisco and other networks.
Think about that, a device in Brach A sending a packet to a device in Branch C.
At the beginning, the MAC tables (FDBs) are empty. So, PE-A Router, sends the packet through all the LSPs. This is flooding like in Ethernet Switches.
The first packet is sent and received. So, the Source Port and MAC Address is recorded to MAC Tables (FDBs).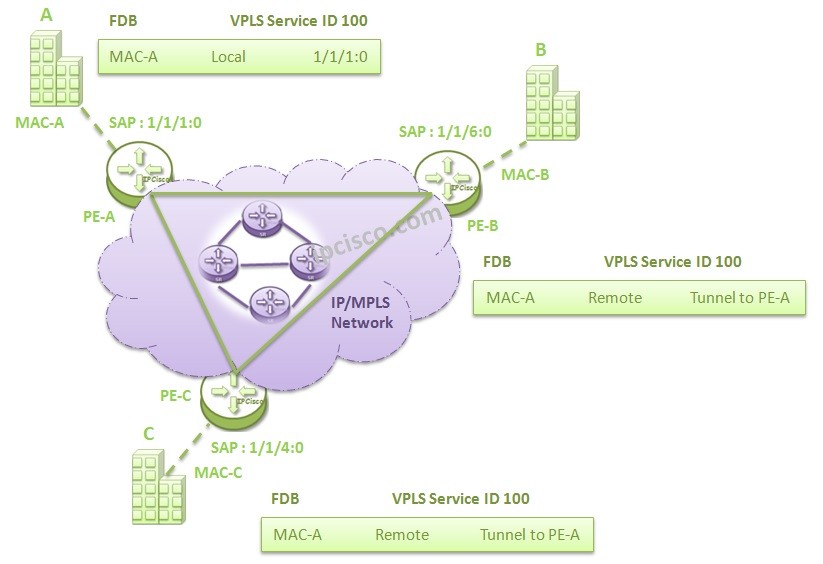 Now, think about that, a device in Branch C, is sending a packet to a device in Branch A. Router PE-C has the destination MAC address and port number for this interface that connects to the customer anymore. So, without flooding the packet, it will send the packet to the exact destination. This time, Router PE-B do not get the packet.