VPRN (Virtual Private Routed Network)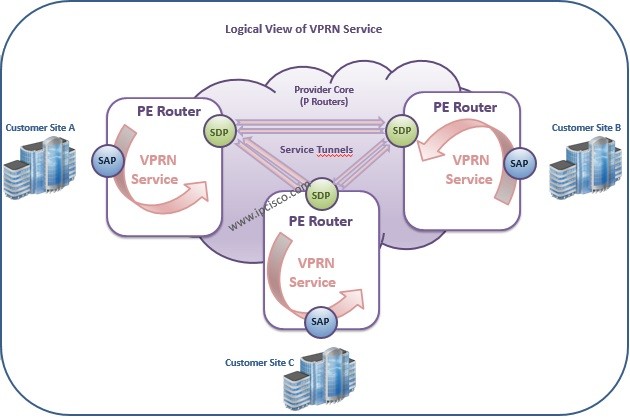 VPRN Overview
VPRN (Virtual Private Routed Network) is a Multipoint-to-Multiponit Layer 3 VPN Service that connects multiple branches in a single logical routed architecture over IP/MPLS network of a Service Provider. This is called Layer 3 VPN generally, but Nokia (Formerly Alcatel-Lucent) defines this Layer 3 VPN as VPRN(Virtual Private Routed Network). It is one of the msot important lessons of Nokia SRA Certification.
Different brances of a customer, pass through the IP/MPLS network of Service Provider and this Layer 3 VPN infrastructure seems to the customer as their branches are connected to a single company Router.
Many different customer networks exist in this IP/MPLS network. And these are managed by Service Provider. Each of the customer in IP/MPLS network does not know the other network and use the Service Provider managed IP/MPLS network as their own. This provides indipendence to the customer and efficient usage of network to the Service Provider.
---
You can test yourself on Nokia Services Quiz page.
---
Logical View of VPRN
With VPRN, multiple sites of the customer can connect over the IP/MPLS Network of Service Provider. So, from the customer perspective, the sites are connected to a Router.
In the next lessons, we will also learn How to Configure this Layer 3 VPN Service on Nokia routers.
You can see the logical view of VPRN (Layer 3 VPN) below: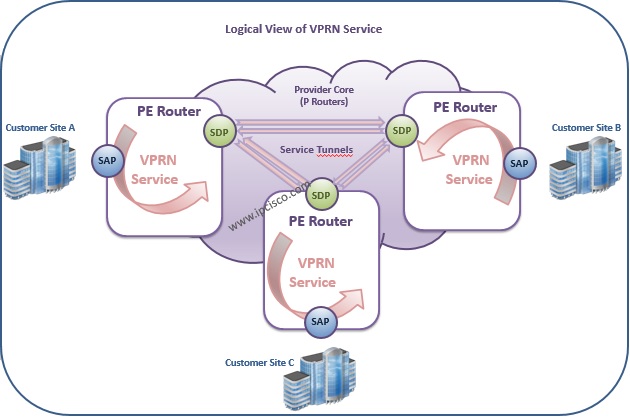 Logical View of VPRN
Here, the SAPs are the access interfaces. In
Nokia
(Formerly Alcatel-Lucent) terminolagy, this is called SAP and need to be created before the configuration. We will talked about it in another article. For now, think that this is a normal interface on Cisco Routers.
In Layer 3 VPN, IP addresses are important, because it works on Layer 3.The traffic is routed according to IP addresses. This is the same logic used by routers. Think about this, a mini router in the main Servis Router.
From the customer perspective, VPRN service seem like below: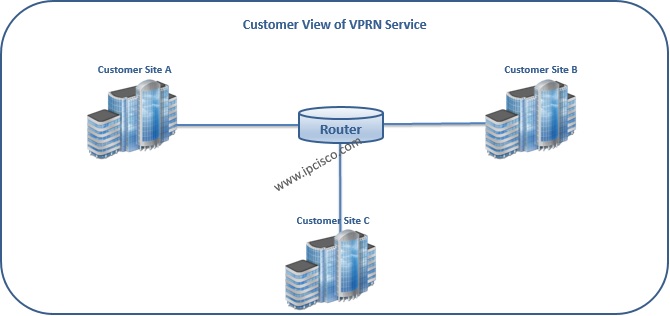 Customer View of VPRN
---
What is the benefits of Layer 3 VPN?
There are many benefits of Nokia VPRN Service (Layer 3 VPN). These benefits are for both customer and Service Provider. The benefits of Layer 3 VPN are mentions one by one below:
Service Provider can serve multiple customers over a single IP/MPLS network
Customers can use any private IP subnets
By using Service Provider IP/MPLS network, customers provide Redundancy easily
Customers benefit using a Service Privder managed IP/MPLS network without extra effors
---
VPRN Routers
The routers used in Nokia VPRN Service is mainly the same routers used in IP/MPLS networks. We have also talked about them on IP/MPLS basics lesson before. Here, as a summary, let's remember these MPLS devices again. The three devices used in MPLS Layer 3 VPN is given below:
Provider Router (P)
Provider Edge Router (PE)
Cusomer Edge Router (CE)
Provider Router (P) : Service Provider Core Routers. Unaware of service. Only provides transport with MPLS Label Swapping.
Provider Edge Router (PE) : Service Provider Core Routers that are towards Customer. Services are defined on these routers. PE Routers exchange VPRN routes with other PE Routers.
Cusomer Edge Router (CE) : Customer Routers that towards to Service Provider Edge Routers.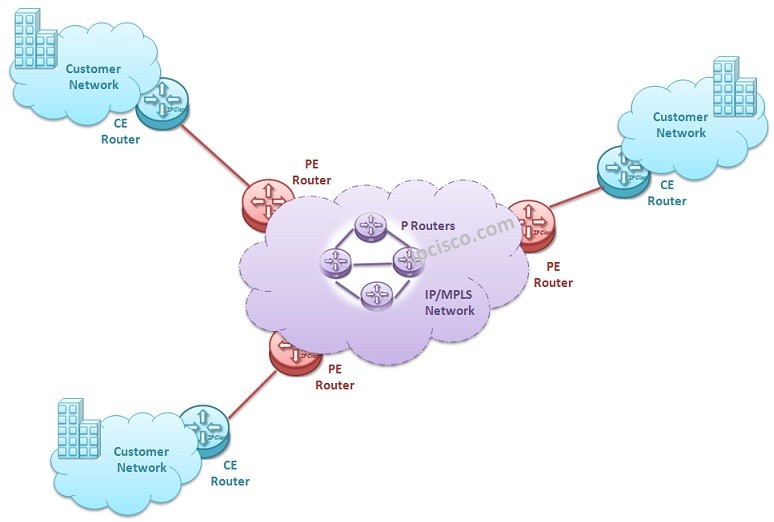 ---
A Simple MPLS Layer 3 VPN Example
As an example, you can check the below picture. In this picture, there are two customers each has two sites. Service 1 is for Customer 1 and Service 2 is for Customer 2. Each site has their own IP block and one block is overlapped as you see. Overlapped IP blocks can be used by different Customers in different VPRN services as we have talked about before. And below, you can also see the VRF Tables of PE routers.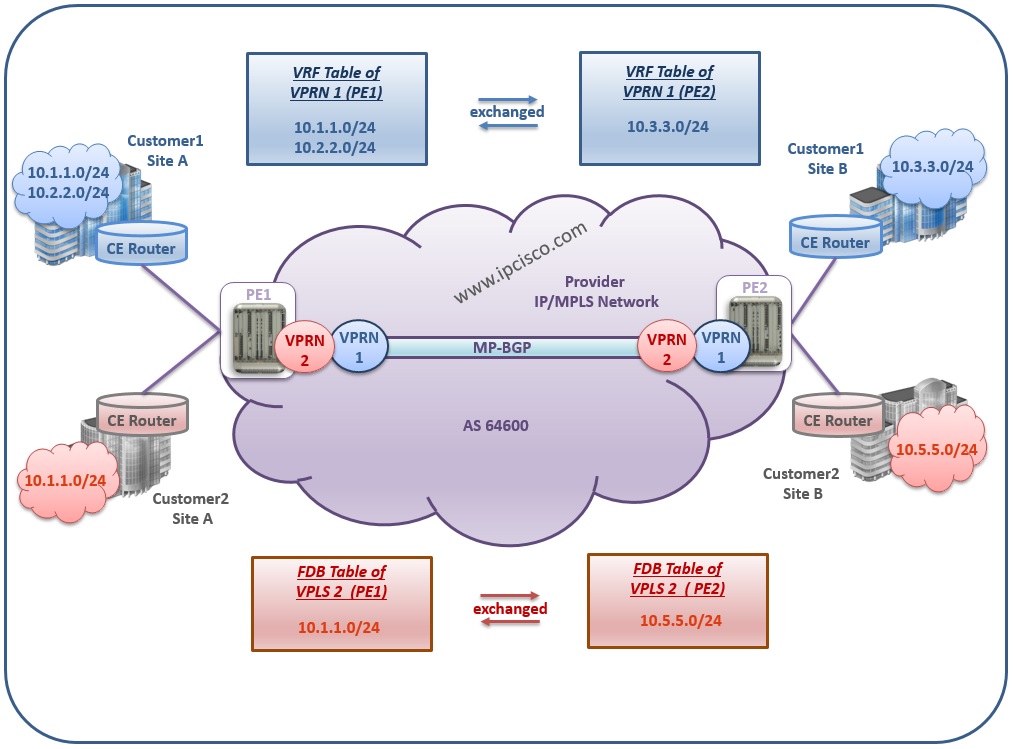 VPRN VRF Tables
Do not worry! Here, we have talked about basic overview of VPRN. In the following articles, we will talk about How VPRN Works, VPRN Labels, Layer 3 VPN Control Plane Operations and Data Plane Operations with VPRN Configurations detailly. So, if you want to learn about this VPN Service, you can follow these lessons.