Policing and Shaping in QoS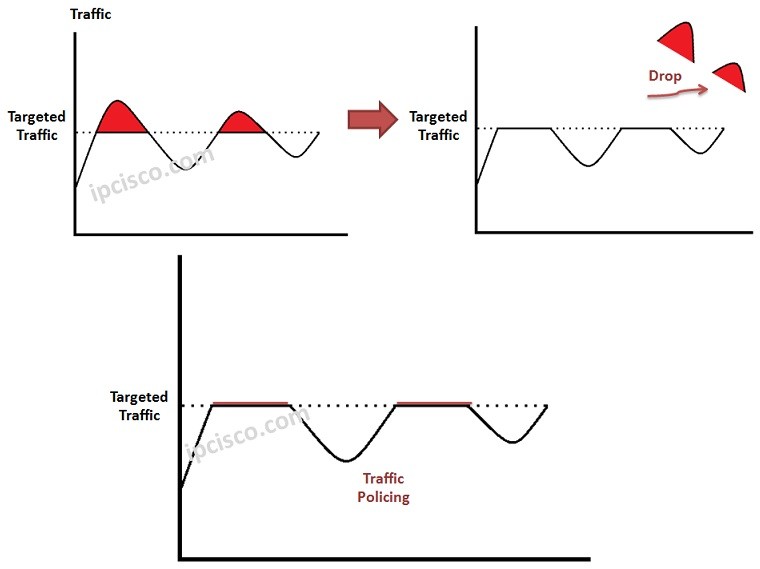 Policing and Shaping in QoS
In networks, the traffic increses for a variety of reasons. During these increases, if the capacity of the link is exceeded, then the traffic on this link is dropped. Without any arrangement, this drop can cause unexpected and undesired important data drops. To avoid such problems, Traffic Policing and Traffic Shaping mechanism are used.
Basically, Traffic Policing is using a predefined Traffic Policy to manage the network traffic. With these configured Traffic Policies, during a bandwidth exceed, the required and desired actions are ordered according to the traffic variety. With this policies, traffics are remarked or they are dropped with a predefined actions.
On the other hand, Traffic Shaping is not as strict as Traffic Policing. With Traffic Shaping, the traffic is controlled and if the traffic close to the traffic exceed, it uses queues and made some of the traffic wait (buffered the traffic) without any drop action.
There are also some important terms used with Traffic Policing and Traffic ShapingThese terms are given below:
CIR : Committed Information Rate
EIR : Exceed Information Rate
PIR : Peak Information Rate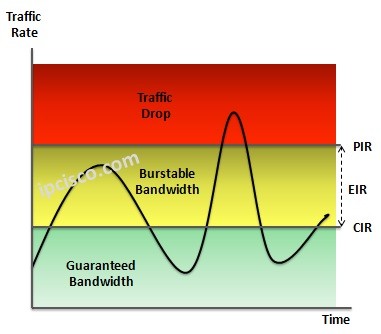 Traffic is controlled according to these values. Now, let's briefly check what are these value. You can also reach the detailed explanation of these values in another article.
CIR (Committed Information Rate) is the traffic rate that is guaranteed by the provider. The traffic rate under this value is delivered certainly. After this value, to the PIR value, the traffic is delivered but not guaranteed. During busy times, these traffic can be dropped.
Beside, PIR (Peak Information Rate) is the top traffic rate that the traffic will delivered in the normal traffic flows. Any traffic that exceed this value, certainly policied or shaped.
EIR (Exceed Information Rate) is the value, between CIR and PIR. This is the amouth of unguaranteed but delivered traffic.
Now, let's talk about Traffic Policing and Traffic Shaping detailly.