Cisco DNA and Intent-Based Networking (IBN)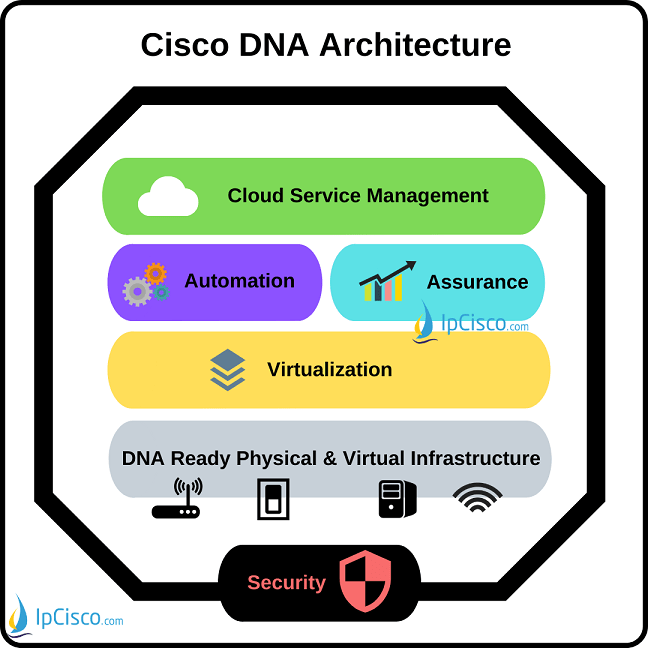 Cisco DNA (Digital Network Architecture)
Cisco DNA (Digital Network Architecture) is a central platform of Cisco as a bridge to Intent-Based Networking. Cisco DNA is generally used bu medium and large companies to manage their operations on one dashboard. By viewing all the network on one platform, networks become less faulty, better performing, more secure etc. If you would like to check Cisco Website, you can visit from here. This lessons is included Cisco Certification beginning with CCNA Certification.
With Cisco DNA (Digital Network Architecture), network opetation cots will reduce, network jobs will be simpler and risks will be minimum.
Cisco DNA automation and assurance are built on SDN (Software Defined Networking) Controller, Network Virtualisation, Limitless Scalability and Rich Analtics. So it will be a bridge of your team to the Intent-Based Networking.
There are some products used for Cisco Digital Network Architecture. These products and their roles are given below:
Cisco IOS-XE
Cisco DNA Center
Cisco SD-Access
Cisco IWAN SD-WAN
Cisco IOS-XE : It is enhanced operating system for Cisco devices which supports network programmability, controller based automation with NFV and SDN.
Cisco DNA Center : A central deshboard on which you can easily design, operate and monitor your network
Cisco SD-Access : Cisco Software-Defined Access is the Access technology with which automated policy access and segmentation is done.
Cisco IWAN SD-WAN : Cisco Intelligent WAN (IWAN)/SD-WAN is the cloud deliverd architecture that i used to manage your WAN and branches simple, secure and centrally.
By the way, there are three subscriptions for Cisco Digital Network Architecture, these are:
Cisco ONE Advantage
Cisco DNA Advantage
Cisco DNA Essentials
Cisco ONE Advantage is SD-Access and Assurance ready.
Cisco DNA Advantage is SD-Access and Assurance capable.
Cisco DNA Essentials is used for basic Monitoring and Automation.
The better and most rich one is Cisco ONE Advantage. With thsi type of subscription, users can has policy-based automation with SD Access, Cisco DNA Assurance, and enhanced security.
Cisco DNA Architecture
There are six parts of Cisco DNA Architecture. These Cisco DNA Architecture parts are given below:
Cloud service management
Automation
Assurance
Security
Virtualization
DNA Ready Physical and Virtual Infrastructure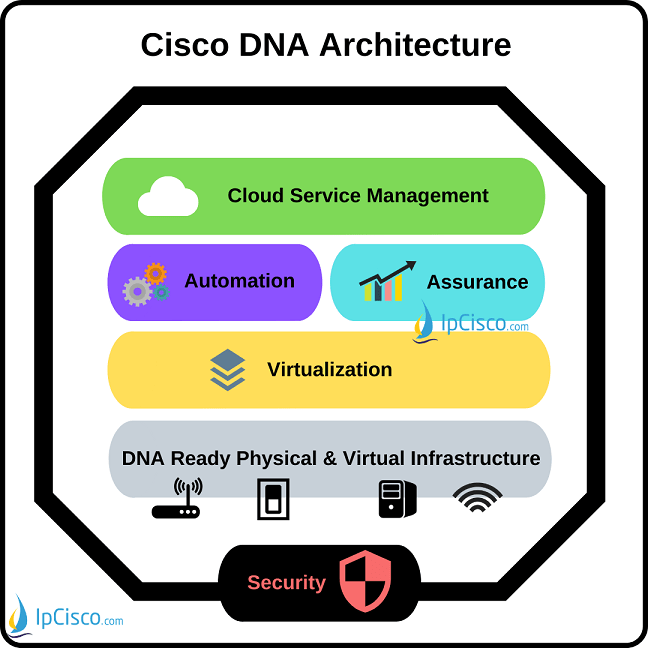 Now, let's check what are these Cisco DNA Architecture parts one by one.
Cloud Service Management : This is the part with which network design, services and policy is managed centraly.
Automation : The part that is responsible for autmating configuraitons, troubleshooting activiites, provisioning etc.
Assurance : As a proactive role, it is the part responsible for performance management, prediction and adjustments through machine learning
Security : It is the part that protect network against any malicious effects. It enoforces security policies.
Virtualization : The role of this part is creating network services through the network in a hosrt time.
DNA Ready Physical and Virtual Infrastructure : The pat that includes the devices that are DNA capable.
Intent-Based Networking (IBN)
Internet-Based Networking (IBN) is firstly invented by Gartner in 2017 and they called IBN as the Next Big Thing. AS you know, there are Ethernet Fabrics, SDN and now SD-WAN. They are all big things in networking World. And Intent-Based Networking is another big thing in frot of us. So what is Intent-Based Networking ?
Intent-Based Networking (IBN) is the network system with which all the things are happen according to business intent. We are saying and the network is doing what is necessary. There is not configurations, no manuel actions etc. This is the next step of Network Automation. Normally, in traditional networking we should configure something on network to do something. But with Intent-Based Networking, there is no need for this.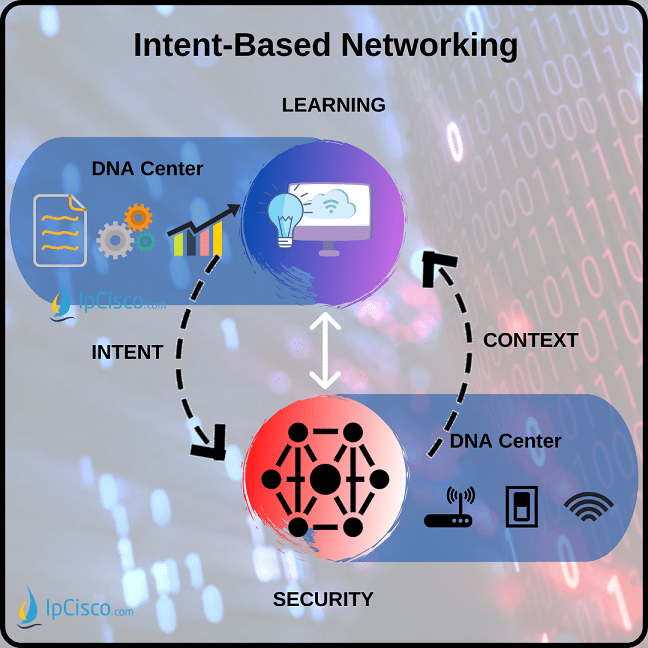 IBN is a new approach. With this new approach, special softwares are used and network plan, network design and automation is done through these softwares. With Intent-Based Networking, network can learn, adapt and evolve.
Intent-Based Networking (IBN) operates as NaaS (Network-as-a-Service) system. In other words, it is an en to end system.
Intent-Based Networking works by verifying network purposes always. It provides automated checks and then determines if any adjustment must be done or not. It always provide to fullfill the intent.
IBN is a standard and it works with all vendors and its products. It is the next big thing, so all vendors must use this technology and adapt their product according to it.
SDN (Software defined Networking) also automated the operations but there are some common diffferencies between SDN and Intent-Based Networking. So, what are these differences? The main difference is DevOps usage. IBN, uses DevOps and this provides more control over the network.
With IBN, the work styles will be changed and network engineers will not have to do repeating works. The faults beucaosue of human will decrease and network engineers will be more proactive.